Antwerp Diamonds
Diamonds From Antwerp, Belgium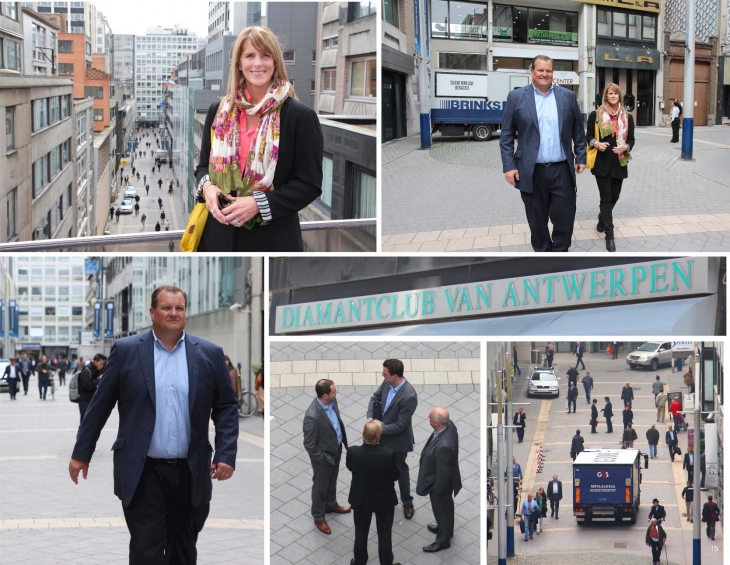 Every year, we travel nearly 10,000 miles to hand select diamonds in Antwerp for our customers. With our connections overseas, we are able to cut out the middleman and save money in the process. With this elite service, we extend these savings to our customers and are able to get the best selection of diamonds in the world. Antwerp, Belgium is where nearly 80% of the world's diamonds are cut and traded, and is known as the "Diamond Capital of the World." We proudly comply to the Kimberley Process, which prevents conflict diamonds from entering the diamond trade, and by doing so, we are able to import conflict-free diamonds into the United States.

In the fall of 2007, we began a special tradition of giving away an Antwerp diamond each time we travel to Antwerp or have an Antwerp diamond event in our store. Just imagine if you could have an Antwerp diamond personally selected for you and it was FREE! It will happen to some lucky person every single time we travel to Antwerp or have an Antwerp Diamond Event in our store.

Every person who pre-orders an Antwerp diamond will be entered in a drawing. Pre-orders require a deposit and all deposits up to $5,000 are qualified for the drawing. Once your name is drawn, you will be contacted and given the option to accept the free diamond or to apply that amount toward a larger diamond. Either way, you are an Antwerp Diamond Winner! View our previous winners here.

Schedule a diamond consultation today, because every diamond we sell is an Antwerp Diamond!